WOODY LANDER, the little dead boy
D 18 March 2007 H 15:48 A terrificator C 0 messages
---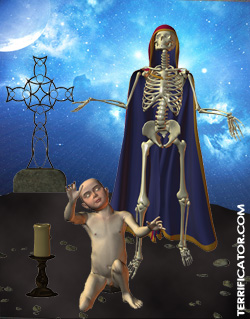 March 18, 2007 - This event occured hardly fifteen days ago and that new was diffused on the french radio, Europe 1, on the morning news. It concerns an English little boy now 14 months old.
This baby was born normally 14 months before in a London's hospital. At the end of the hospitalization of the mom, the new family regained home. But an horrible event occured, the baby was victim of a heart failure. It has been hospitalized again at the urgencies services where during several hours, a medical team tried to reanimate it vainly.
After two hours of medical observations, the doctor came to inform the parents that there was no more hope. The small corpse was going to be brought to the mortuary, when the mom wanted, for the last time to hold it in her arms. Despaired, crying, she tightened and kissed her dead child. And a miracle happened !
Whereas the mom stroked tenderly the body without life, she felt it breathing again. The hospital team precipitated at once to bring the necessary medical care. After 14 months of medical supervision, this extraordinary new has been revealed. Voluntarily, the real family name has been hidden to avoid any mad curiosity. Many scientists and doctors want to explain this event thanks to rational science. But reality is there and different! A breath of life has been insufflated in a small human being declared died since hours.
The world of the deads did not want this little soul and rejected it into our world. That's wonderfull!
Remember, the world of deads can be also a marvellous world!
Also in this section