JENGLOT
D 2 February 2004 H 15:56 A terrificator C 0 messages
---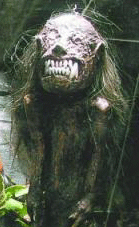 For tourists who like the bizarre and unexplained, Malaysia also offers a special exhibit of ghoulish human-looking remains, known as "jenglot," which are vampires according to Malay folklore. From now on, it attracts worldwide tourists.
A jenglot is a type of mystery creature or vampire in Indonesia and Malaysia culture and mythology. The appearance is like a tiny human body dolls with long hair and appear to be alive. It is usually described as a mythical creature and some said Jenglot was actually a human body.
Standing up to a meter (3 ft) tall, they appear to have charred skin, long black hair and sharp fangs. They are used in villages as a spiritual guard dog to scare off trespassers.
Last year's exhibit drew big crowds to a small museum outside Kuala Lumpur, including a local paranormal investigation group.
Also in this section