WICCAN SYMBOLS and MILITARY GRAVES
D 30 April 2007 H 10:12 A terrificator C 0 messages
---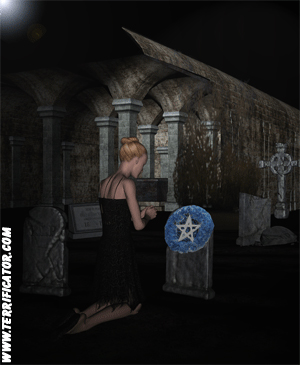 Since the end of April 2007, Wiccan pentacle has been now allowed on government-issued headstones of fallen soldiers. Navy veterans who identified theirselves as Wiccans have pressed the federal government to allow pentacles, the symbol of their faith, to be engraved on military headstones. From now on, the pentacle has been added to 38 symbols already permits on american military graves. The symbol of wicca is represented by a pentacle which symbolize harmony, beauty, perfection, on the contrary of the reversed one which is the sign of satanism. Eleven families nationwide are waiting for grave markers with the pentacle.
For Selena Fox, a famous american Wiccan high priestess, it was a success after a long lawsuit for this official recognization. According her, this success shows there is no more the predominancy of a main religion against minor ones.
WHAT IS WICCA ?
Wicca is sometimes regarded as a religion, sometimes more like a philosophy. Wiccans believe in a single force, the spirit of the Earth. This natural spirit is divided into two polarities: male and the female one, forces represented by the Great Goddess and the Horned God:
The GODDESS:
She symbolizes female energy, the night, the magic, water, the ground, the fertility, the cauldron, the pentagram, the cut, the mirror. She is currently associated with the moon star dominating in the wicca.
The HORNED GOD:
He is associated with fire, air,rod, sword, harvests, sexuality and sun. Often represented with horns, its figure does not represent the devil but the antic celtic god, Cernunnos, who is the God of Abundance or also the antic Faunus greco-roman god, Pan. The symbolism of the horns points out a stag, symbol of Nature itself.
This religion includes elements which can be found in a number of old beliefs such as shamanism, druidism and Greek , Slavic, Latin and Scandinavian mythologies. The wiccans preach the return to the worship of Nature, which they name the "Old Religion".(Read my previous report about the difference between Wicca and Witchcraft)