PROFANATION: GOULES IN GRAVEYARDS
D 17 May 2009 H 15:29 A terrificator C 0 messages
---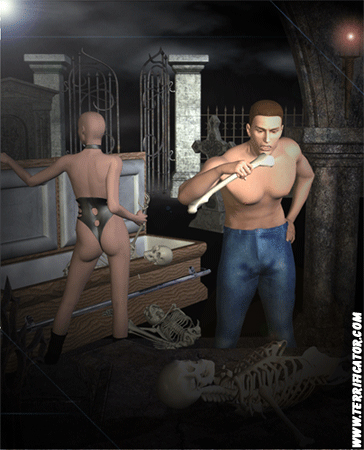 The worship of deads is a famous characteristic of mankind and participate to his humanity and differenciate human kind from animals. Burial in specific places appeared very early in humanity, before the invention of writing, with the creation of particular rituals and grave buildings. Profaners are used to be considered sacrilege because they act against human rules and rituals. See my previous report about the Worship of skulls.
April saw in France the sad record of profanations of graveyards:
– April 1: 51 tombs were degraded in the graveyard of Lille-South

– April 12: 77 tombs have been profaned in a the graveyard of Lehon close to Dinan

– April 15: The churchyard has been turn upside down in Dommartin-les-Remiremont in Lorraine as well as the church

– April 18: The church of St-Paul du Moulin à Vent has been degraded and the chaplaincy attacked in Perpignan

– April 19: 52 tombs in a graveyard close to Arras have been degraded with painting

– April 23: 3 people having profaned 180 tombs in the graveyard of Le Havre have been arrested

– April 28: A new graveyard in the north of France, has been turn upside down
One wonders about the reasons of the profaners. Why so great hate against deads, graves and churches? Here are some beginning of answers which raise the veil but do not excuse the profaners:
– Some profanations are acts of racism against specific worships for upsetting more the livings than the deads.

– Some profaners are often very young and as in horror movies want to "play" vampire, goule, priest of black ritual... for true. The profaners are often teen-agers at the age of rebellion. The profanation of blessed ritual give them a feeling of power and an excitation that they cannot get in their usual life.

– Like the animals necrophagous which feed themselves of corpses, there are people having cannibal impulses and who visit the graveyards to feed themselves. This type of feeding is the cause of the disease of prion for them. This behavior depends on psychiatry.

– The graveyards have always attracted necrophilious people who are sexual perverts feeling morbid attraction with human corpses. They contemplate them, they palpate them and even have sexual relations with them. Psychologists and psychiatrists think that it is the sight of the corpse of a late relative, very loved by a very young child, who is at the origin of this perversion. This behavior depends on psychiatry.

As you see, reality can be worse than your worst nightmare!
Also in this section