NEWS FROM THE GREAT BEYOND
D 1 January 2004 H 15:21 A terrificator C 0 messages
---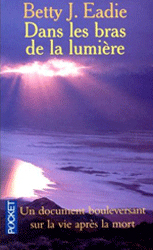 An upsetting report about life after death was published in 1994.
In consequence of an accident, Betty J Eadie was declared died clinically, at 31 years, before returning to life. After her adventure into the great beyond, she brought back an astonishing and luminous message of love.
She describes the life on the other side and explains why terrestrial life is marked out by tests and recalls us that these extraordinary travels on the borders of death are specially important for what they teach us about life. Death is the last step of our spiritual awakening. Knowing the significance allows us to live in conscience and completion.
Also in this section